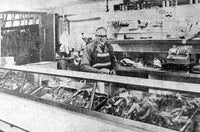 Serving St Clair since 1927
Leckies Butchery has been offering the best quality New Zealand meat since 1927. We pride ourselves upon quality, service and all round superior product. 
Sandra and Grant Millar have operated the store since March 2007 and look forward to continuing to supply their community with fresh, top quality meat. 
Shop now
Fresh, quality meat. A true personal service from a local family business. 
The lockdown has shown me how important it is to support local business - I love being able to buy local with easy delivery. 
The same delicious products I'm used to, without having to leave the house.